А few months ago, we moved into a new office with the aim of both growing our business and designing our own creative space – one that is in perfect symbiosis with the culture of our company. Now that our new office is a reality, it is often referred to as "the office of the future" by the media. So, what are the standards of the modern office in a world where the nature of work is shifting all the time?
In our industry, the office is a significant social benefit. The ultimate goal is for employees to feel motivated and encouraged to take initiative, as well as connected in a community where they are comfortable to share their ideas. In fact, the stimulation of creativity in any technology company, and not only, is extremely important. This is the reason why we have boldly invested in our new office. Here we share our priorities and considerations that guided us on the way to designing our own place:
Location
In a bustling city like Sofia, the large companies of today are choosing to nestle their new offices in the outskirts. However, when we were looking for a location for our new "home", we decided that the pace at the heart of the city perfectly matches the dynamics at Accedia. We believe that the setting around the office of the future certainly needs to reflect on the company's culture and values.
Mobility and flexibility
As it is probably in every modern company nowadays, we spend a significant amount of time interacting with colleagues from other teams or departments and just about 50% on our own desk. That's why we designed an office that accommodates the needs and specifics of our business. For example, we chose smaller open spaces that help nurture team cohesion as we steadily pull new teams together. At the same time, the furniture we carefully picked caters for the team's freedom and mobility. Ergonomic office chairs and height adjustable desks for everyone facilitate the movement across different rooms, teams and floors, thus naturally creating  dynamics without compromising on anyone's comfort.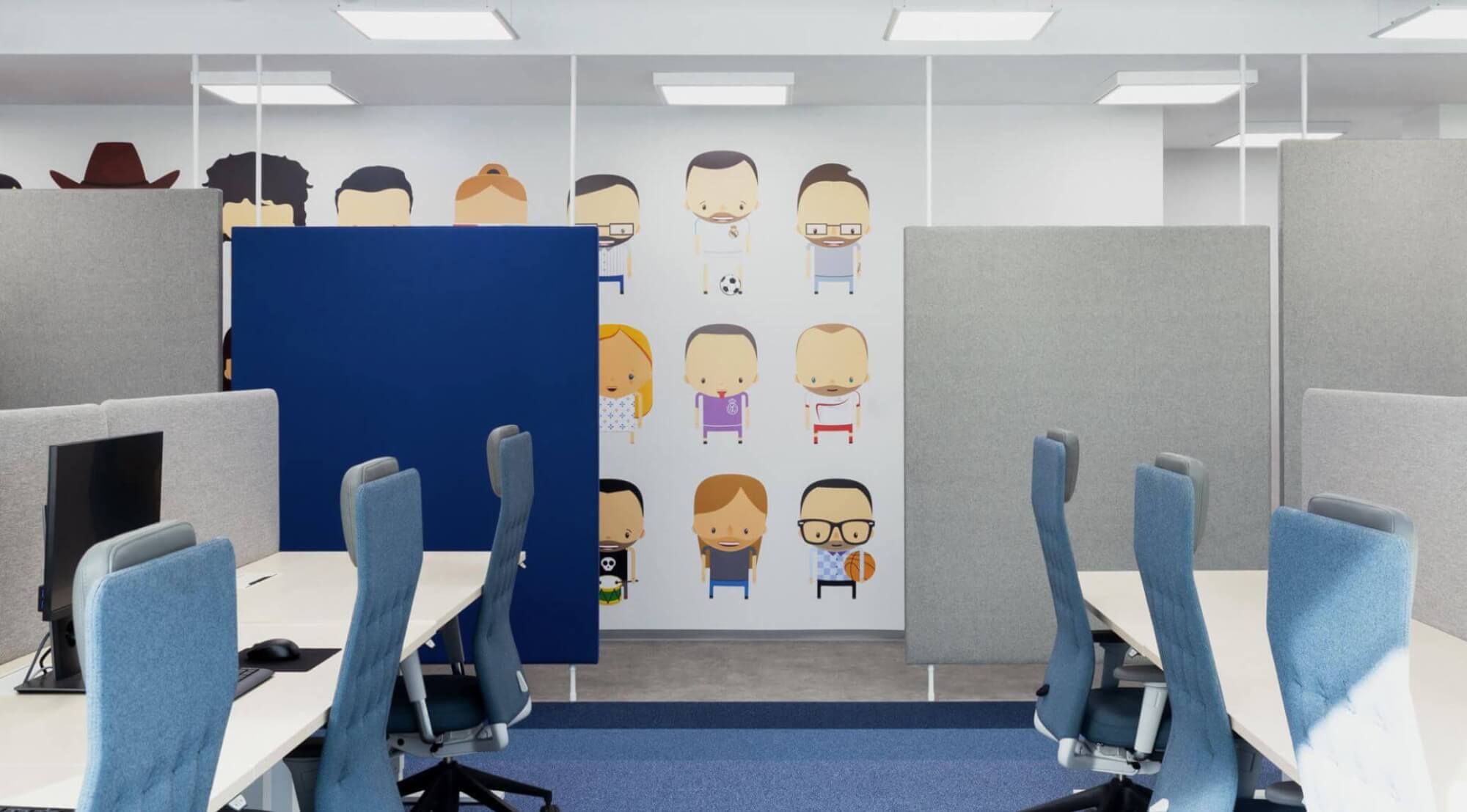 photo: www.minkominev.com
Wellbeing
Providing mobility and flexibility at work is directly connected to Accedia's consideration of the healthy workplace being. The activity-based office model allows us to easily change settings based on the type of task or project. For example, there are quiet areas for concentrated work, small booths for casual conversations, relaxation room with access to collection of books, and meeting rooms of different sizes for team collaboration. Moreover, we encourage our people to take short breaks from their screens and refuel by promoting various office games and seasonal internal tournaments. This is a great tool for sparkling creativity, spreading good cheer and bringing colleagues in different roles together.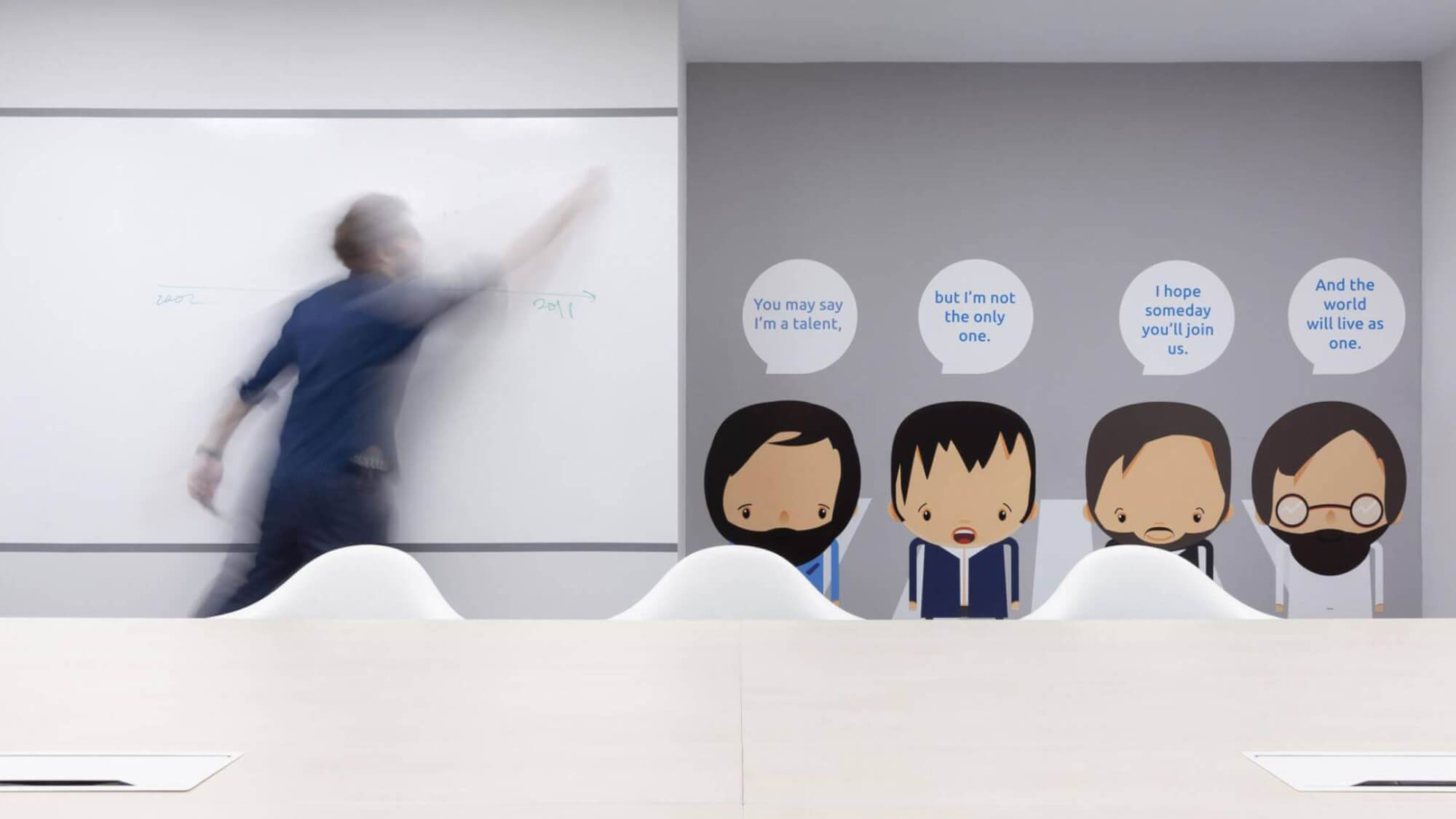 photo: www.minkominev.com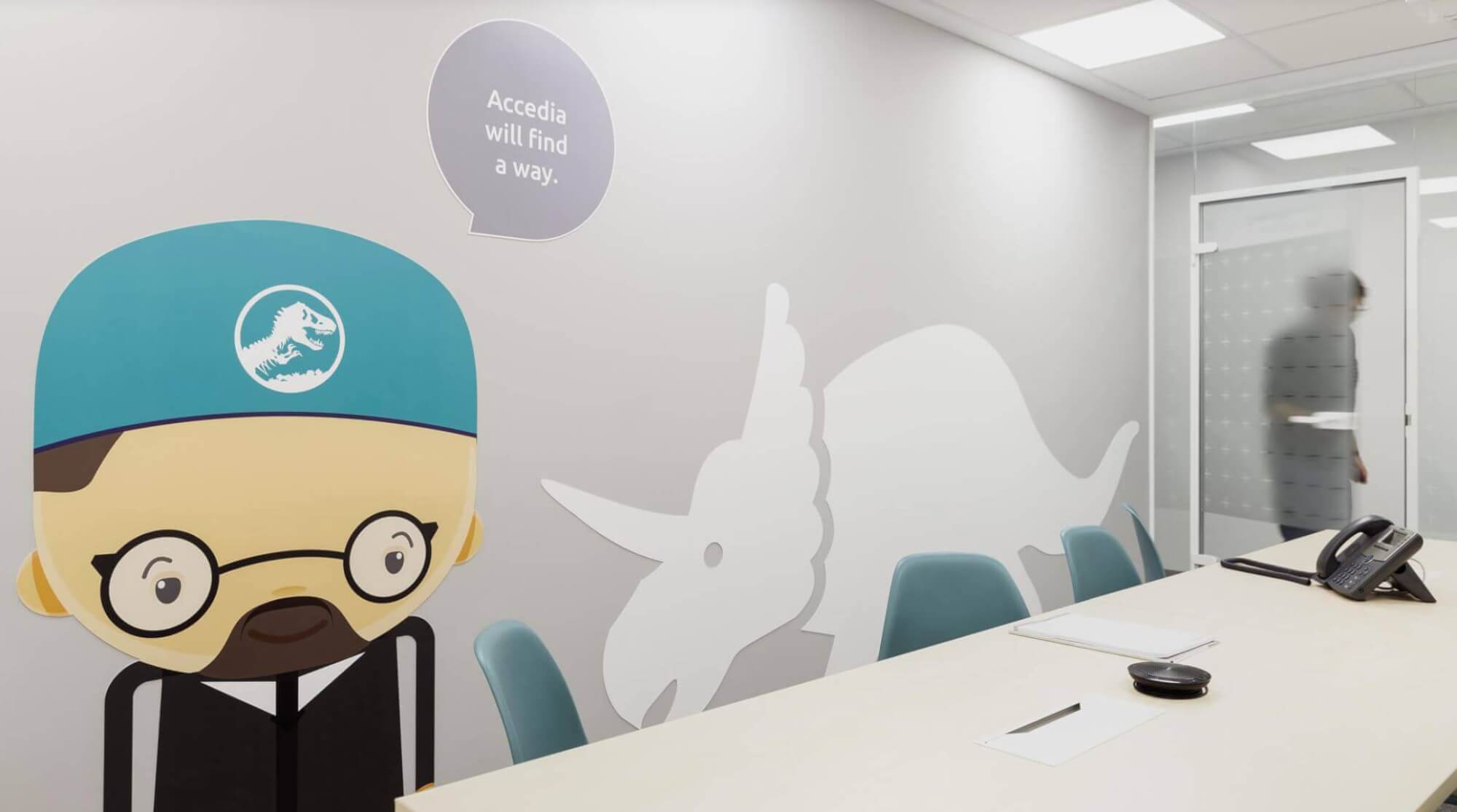 photo: www.minkominev.com
Another step forward
It is no secret that the offices of world leading companies have many things in common and yet, each has something to differentiate them. When it comes to our "secret ingredient", it is a rooftop bar with panoramic view over the mountain – a natural point of gathering for all people in the company. Another thing that makes Accedia's workspace stand out is the room dedicated to the driving force behind our success – innovation. Our Innovation Development Center (IDC) is the home of creativity at Accedia. In the IDC room we hold our initiative that empowers the team to develop their out-of-the-box ideas as product co-owners for a third consecutive season.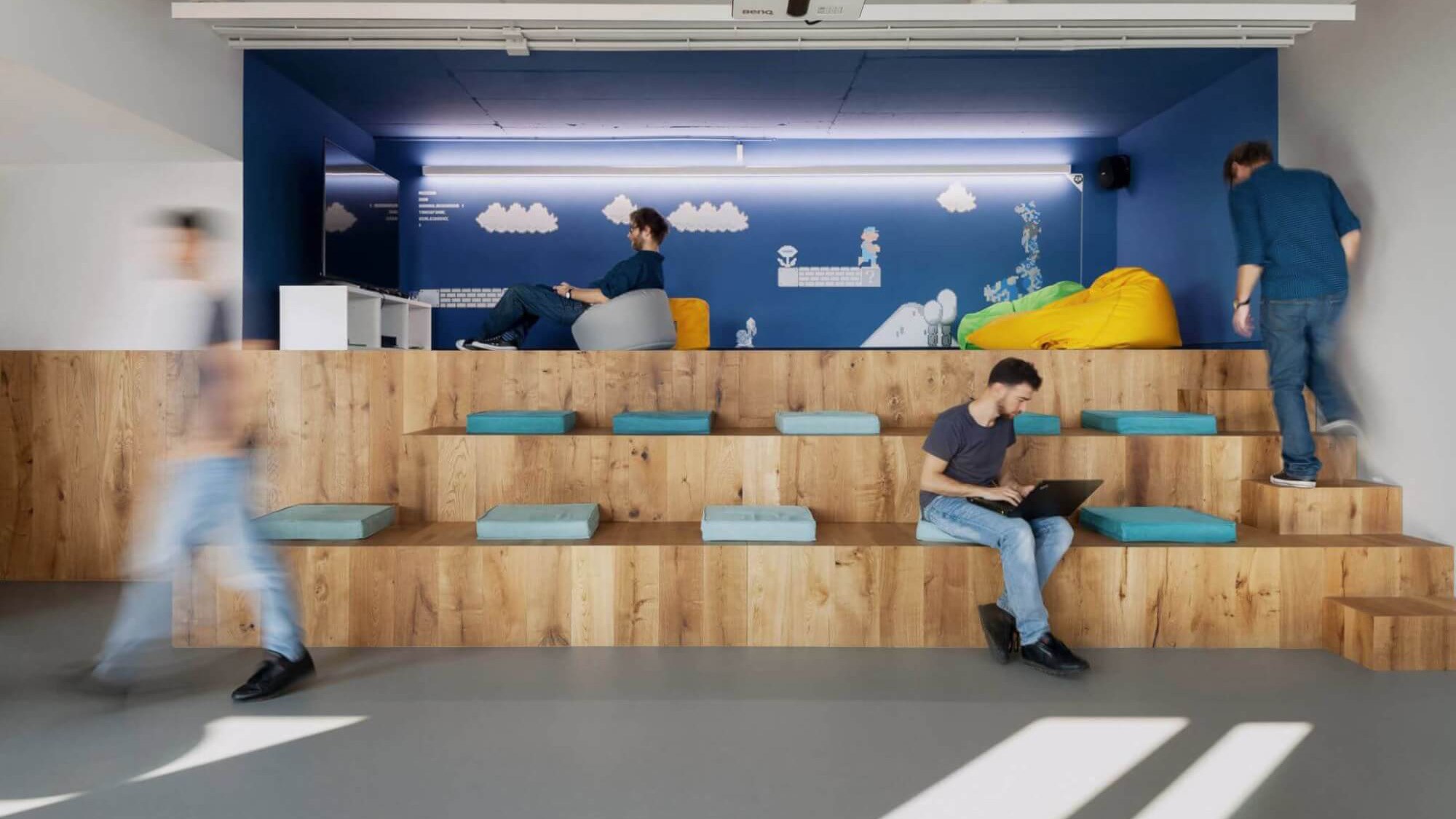 photo: www.minkominev.com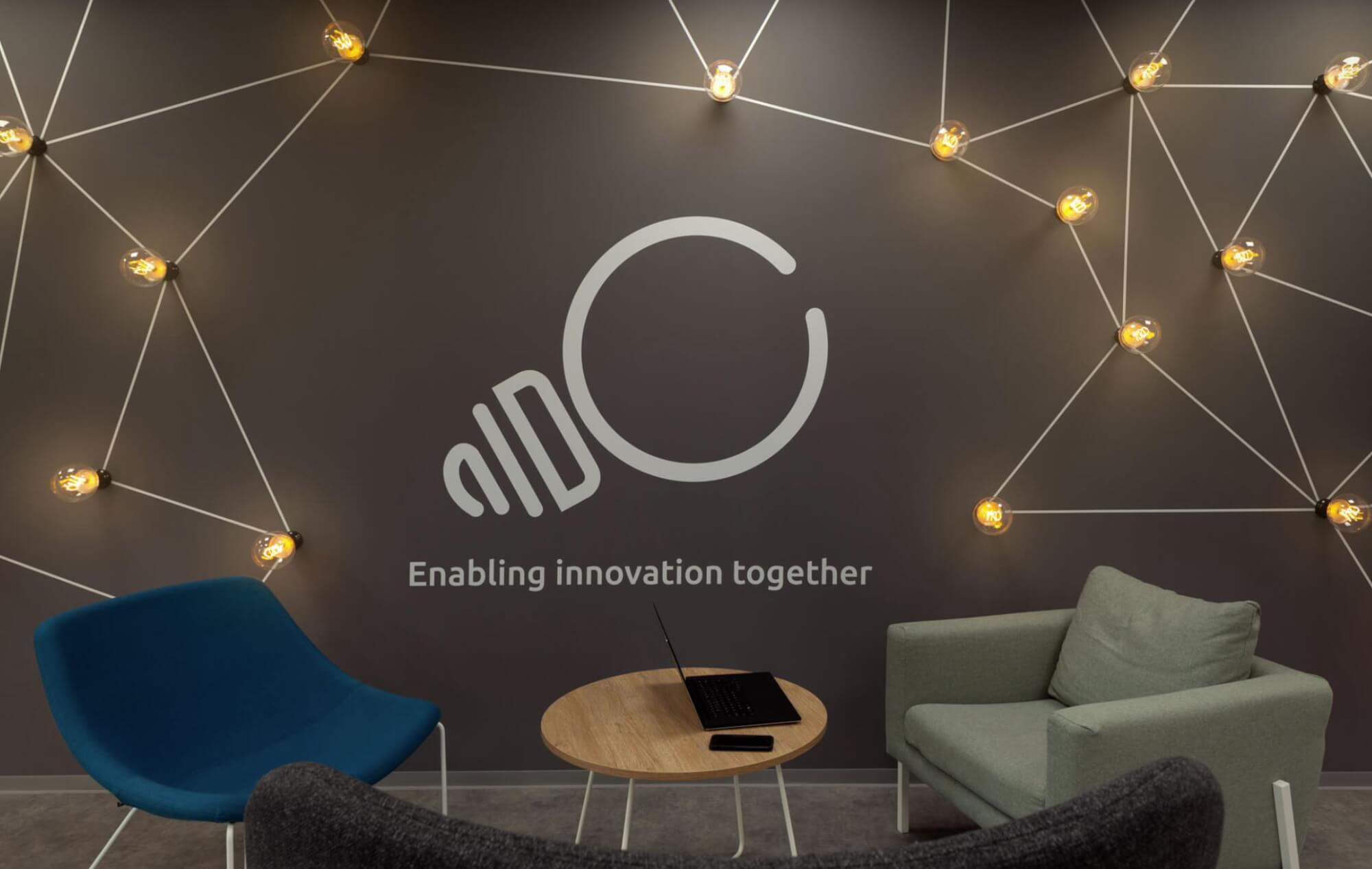 photo: www.minkominev.com
Taking all the above into account helped us craft an environment that is not just about contemporary design. That's how our office turned into a vibrant place that matches our personalities and makes us always feel at home.
Browse more pictures of our office of the future here and follow us on social media (Facebook, LinkedIn , and Twitter) for the latest news and updates.